What Are the Different Types of Butler Sinks?
Butler sinks are often smaller in size than the standard kitchen sink that is often used in the butler pantry, their origins came as a fireclay butler sink or ceramic sink but in modern times we've taken the concept of the butler sink and made changes and adaptions.
Farmhouse sinks meets modern
The Boden Belfast Farmhouse Sink is a modern play of the old Belfast or Farmhouse but with a nice Stainless Steel Finish to keep it modern and easy to maintain.
Perfect as kitchen sink or laundry trough
The Origins of the Butler Sink and a Belfast Sink
These types of sinks date back to the Victorian times (which was around the 1830s to 1900s), the butler sinks was originally designed for the butler's pantry in London. Back in those times, there was far less water readily available in London because fresh water was in very low supply in London.

Which is why the butler sink was designed, which is quite different from the Belfast sinks. Though they were both very similar in that they were made of solid white ceramic fireclay.
Discover the perfect smallest sink
The Belfast sink was a different spin on the classic butler sink, they were still primarily used by butlers but these sinks were designed in Belfast which is on the coast, so they didn't have an issue of obtaining water as London did. So because in Belfast it wasn't as important to conserve water they had a different sink designed for their Butlers which ended up becoming what we know today as the Belfast sink.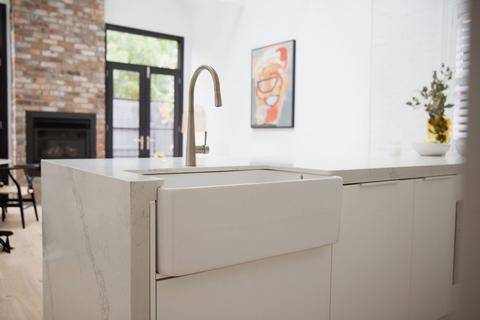 Source: Turner Hastings
The Actual Difference Is Mainly a Waste (Of Water)
Hopefully, you enjoyed the pun, because the main difference was that the Belfast sink was built with an overflow drainer connected to the waste because they weren't concerned about conserving water. Whereas the Butler sink was more used in London where the water was in short supply.

Since the creation of the two sinks though there have been changes made to fit and suit modern-day designs and uses. Previously the Butler sink was wider but wasn't as deep as the Belfast, and both of them would be a single butler sink but these days they're almost on par.

Belfast models are also changing and evolving, previously there were only single bowl editions but now they're coming in double bowl kitchen sinks, and you might also see the double butler sink becoming more popular also.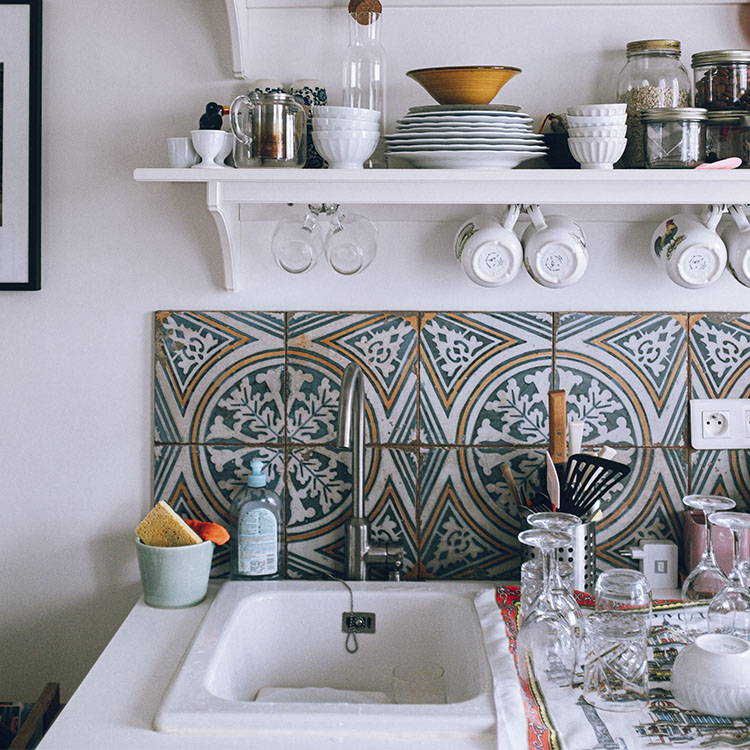 Source: Daria Shevtsova
Farmhouse Sinks or Apron Sinks
These are very similar but come from a French background, these are very similar to the butler models but are considered to be a french farmhouse sink.
In France, the clay that is used in the fine fireclay sinks were a bit more refined than the UK so they were able to achieve a thinner wall and more elegant look.
Also Consider Buildmats Boden Farmhouse Apron Sink which is constructed in Stainless steel so that you don't have the issues you would with fireclay or ceramic.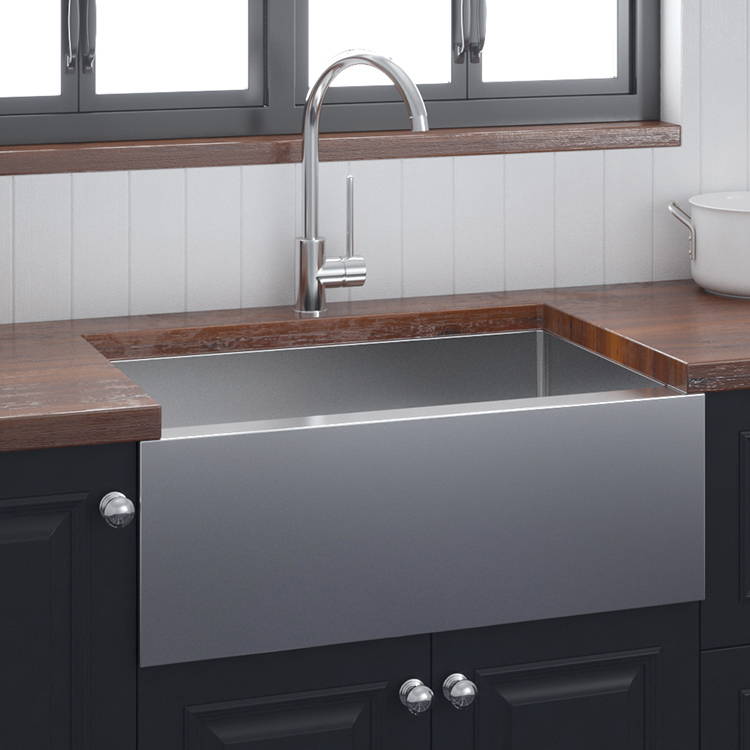 Buildmat Boden Farmhouse Sink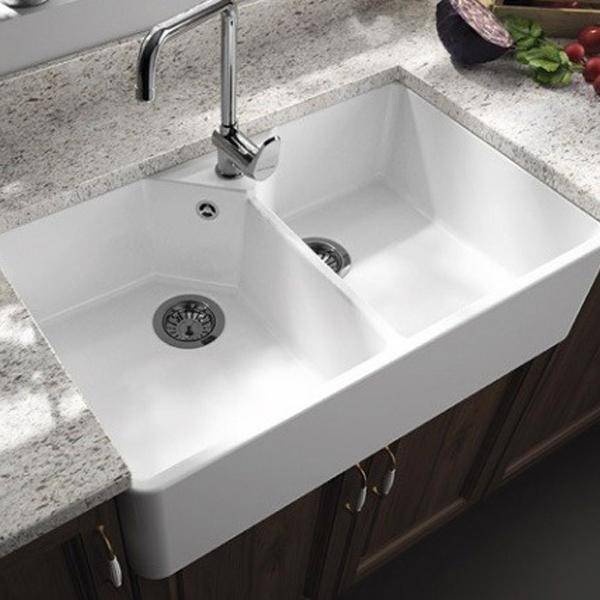 Source: Turner Hastings
Modern Designs and Uses of Ceramic Sinks.
Sometimes these sinks are being installed as undermount or similar to a semi-recessed basin, sometimes even an as on counter basins almost making it look like a miniature freestanding bath in the kitchen.

If you're limited with space and you're considering a ceramic sink make sure you consider the size of the bench before you decide whether to get a double bowl sink or single bowl sink, whether you're going to go with the full classic look and consider towel rails a dishwashing machine, soap dispensers, size of the tallboys.

Just make sure you have all the styles ready in your wishlist before you start making your decision because it could be a costly exercise.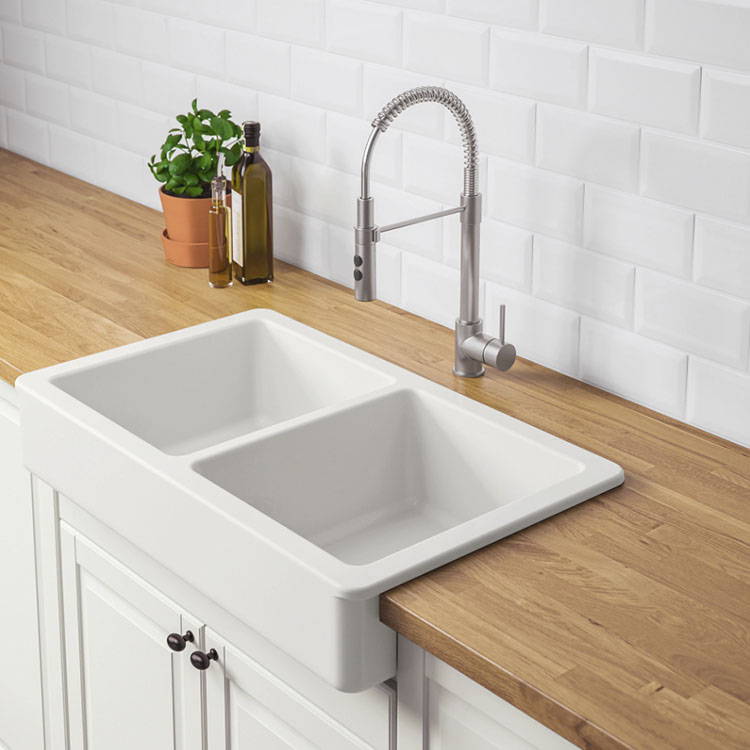 Source: Ikea Kitchen Sink
Tapware Choice
If you're going for a style kitchen make sure you select the right tapware for the theme, if you're going for an old vintage look you might want to find a nice copper or rose gold sink mixer or faucet tap.

Some colour contrasts look great, for example, a ceramic sink with a matte black sink mixer, this is also easy to match in the bathroom too with showerheads, hand showers, even toilet brushes being available in matte black at affordable prices. You can even have your basket waste match the style. A popular style is a pullout tap mixer could make doing dishes super easy and doesn't hinder your style.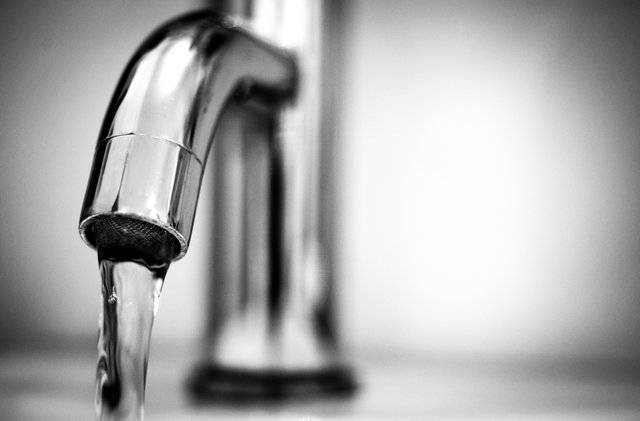 Source: Skitterphoto
Ideal for kitchens and laundry rooms
Buildmat
At BuildMat Australia, we only offer the highest quality undermount sinks and overmount sinks with the best prices in the market. With an extensive connection of trusted manufacturers, you can be assured of the quality of your products. To know more about our products, check our FAQ or head on over to our main page.
If you'd like to get in touch with us, shoot us an e-mail over at sales@buildmat.com.au or call us on 1300-123-122.
Source: Turner Hastings